Commonly Asked Cosmetic Dentistry Questions
Q. What should I look for in excellent cosmetic dentistry?
A. Excellent cosmetic dentistry should not be detectable. You will simply have a great smile. Look at the smiles of people who have had cosmetic dentistry and see their gumlines, too. You should not see gums that are "puffy" or of any color shade other than a healthy pink (no purple or dark gums). Also, there should be no dark line at the base of the crown at the gum line.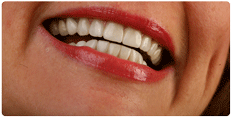 Kathleen Peacock loves
showing her new Mastro smile!
Q. How long does teeth "whitening" last?
A. The color change should be at least semi-permanent. The level of whitening you maintain depends on several factors such as your diet and the amount of dark-color drinks you consume. You can maintain the color you desire with proper maintenance.
Q. There's a big gap between my two front teeth. Can that be changed with cosmetic dentistry?
A. Yes. Bonded veneers can close gaps and help create the smile you desire. Bonded resins generally require one office visit, while porcelain veneering takes two. Bonded veneers, along with good oral hygiene and a healthy lifestyle, are effective ways to enhance a smile. A Dr. Mastro can explain the various techniques and help determine which cosmetic dentistry technique is the best suited to your specific needs.
Q. How can I make my discolored teeth whiter?
A. Tooth whitening, the process for lightening discolored teeth, can be accomplished in Dr. Mastro's office. Teeth can be whitened to the desired shade over several office visits.
Q. I know my smile needs some cosmetic dentistry work, but I'm not sure if I can afford to have cosmetic dental work done.
A. The cost of cosmetic dentistry depends on how much cosmetic dentitstry you want. Like any cosmetic process, costs vary with the your choices and desire. Dr. Mastro can explain prices of various cosmetic dentistry materials, prices and the best cosmetic dentistry procedure for you. Also, some cosmetic dental options are covered by insurance. Cosmetic dentistry is probably not as expensive as you think. Investment in cosmetic dentistry is an investment in you. It can lead to greatly improved appearance and help improve self-esteem, confidence and success.
Q. Most of my teeth are bunched too near the front of my mouth. Is there a way to get rid of that crowded look - without braces?
A. With cosmetic dentistry's 'instant orthodontics', cosmetic contouring, and/or bonding and veneering, teeth can be reshaped for long-lasting results and with stronger, less crowded-looking appearance.
Q. My back teeth have a lot of mercury and gold. Is there a less obvious and healthier way to fill cavities?
A. New advances in tooth-colored porcelain and composite materials not only allow fillings to go unnoticed, but are stronger and more wear-resistant than mercury or gold. They are also much more healthy.